As scholars at Freely in Hope, we are given the opportunity to thrive because of your allyship.
Freely in Hope gives us a platform to help us thrive in our education and become leaders. The scholars at Freely in Hope are united by a common mission to end sexual violence and bring hope to our communities. Through your support, I have been able to heal from my trauma and support other survivors of sexual violence. It is through you that I am able to pursue my degree in psychology and gain respect in the workplace. I am a product of your support. I went from someone who was unable to smile or even say her name to someone who cannot stop talking!
Our healing journey is supported by the Hope Circle, a monthly giving program that literally encircles survivors with the support they need to thrive in their education, leadership, and healing. As a Hope Circle Member, your monthly donation supports our education and leadership journey. Members also learn from the stories of Freely in Hope scholars on ways to be better advocates for justice and hope. As a Hope Circle Member, you help us achieve those dreams and become powerful leaders that will end sexual violence in our world!
Your monthly donation funds holistic education which allows us to study safely.
As a Hope Circle member, your donations fund tuition fees, healthcare, safe housing, counseling, mentorship, and healthcare where we can grow, learn and heal in the Freely in Hope community. Your donations directly impact scholars like me, so that I can pursue my dream of becoming a psychologist and support the mental health of others. Scholars at Freely in Hope are all young women affected by sexual violence who desire to use their education to become leaders in ending sexual violence in their community. 
your Allyship with survivors is important because many of us have not felt heard or validated.
The trauma of being silenced by our society is even more traumatic than the incident of sexual violence itself. When I joined Freely in Hope, I listened to the stories of my older sisters in the organization and told myself, "One day, I will be like them." It took retreats, meetings with donors, and the support of an entire community to grow me into the person I am now. Many survivors are unable to pursue justice, afford quality education, pursue leadership opportunities or access mental health support to heal. But when survivors have allies in their corner who support their journey, they experience healing along with their advocates. Our efforts as both survivors and allies will build a world that is safer for our daughters.
Your presence helps us remember that we are not alone.
Members of our Hope Circle are given the exclusive opportunity to attend our Hope Circle Connect. These gatherings are designed to platform the voices of survivors of sexual violence and support members in becoming better allies. Hearing from the wisdom of survivors, you will learn how to be an ally with survivors in your own communities. At our Hope Circle Connect gatherings, you can ask our scholars questions and engage in a conversation where they will share advice for allies who desire to support survivors better, their journey with Freely in Hope, and solutions for building a world free of sexual violence.
You will also have the opportunity to engage in conversation with like-minded allies. We facilitate in-person networking gatherings, galas, and conferences with Freely in Hope scholars and staff members where you can connect with others who are also pursuing justice, hope, and freedom. Our members are given access to the Hope Circle Facebook group where they will receive firsthand information on program updates, scholar stories, and upcoming events.
Your hope circle membership will help us become educated, dynamic leaders that end sexual violence.
You can support Freely in Hope's mission by joining us in the stand against sexual violence. Join the Hope Circle and encircle scholars, like me, with the support we need to achieve our dreams!
WANT TO LEARN MORE ABOUT WHAT YOU CAN DO TO BE A BETTER ALLY WITH SURVIVORS?
DOWNLOAD THESE 4 TIPS ON HOW TO ADVOCATE WITH SURVIVORS TODAY.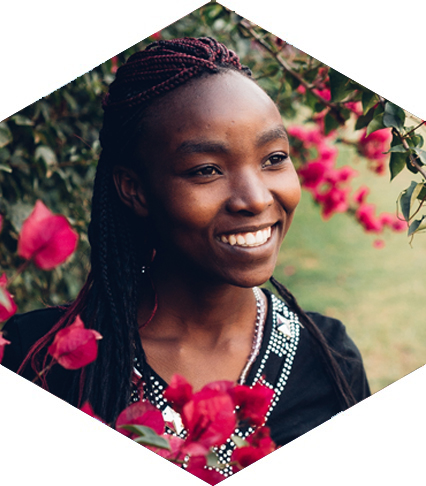 Faith is a poet, emcee, actress, and survivor-advocate. Faith is currently a Freely in Hope Fellow where she designs initiatives that end sexual violence while studying counseling psychology. Hailing from Nairobi, Kenya, Faith has a passion to see her community transform. She is pursuing a degree in counseling psychology. She's been trained in leadership and entrepreneurship and even started an empowerment project for vulnerable girls. She writes and performs poetry to inspire girls to find their beauty in the midst of brokenness.