RESOURCES TO HELP YOU CARE FOR SURVIVORS AND PREVENT SEXUAL ABUSE IN YOUR COMMUNITY
Pendo's Power teaches lifesaving education and empowering resources that prevent child sexual abuse. 
Meet Pendo! Pendo is a six-year-old girl from Kenya's Kibera slum. She prevents sexual abuse by teaching her friends about body autonomy, consent, safe touch, and the power of their voice! This illustrated storybook will empower both parents and children to respond to sexual abuse. Written in English and Kiswahili, children will not only learn a new language but also learn how to harness the power in their voice to speak up against sexual violence. 
advocating with survivors of sexual violence
This video course features conversations filled with intimate learning lessons around advocacy efforts for faith-based leaders. This course will equip you to advocate alongside survivors, expand your perspective by learning from the wisdom of survivors, and challenge you to fight against systems of oppression and establish new systems of liberation within your community. 
Use discount code FREELYINHOPE to save 25% on an all-subscription.
the butterfly effect retreat curriculum
The Butterfly Effect retreat curriculum aims to heal the trauma of sexual violence by providing a deeply healing experience for survivors to connect through the power of their shared stories. This curriculum is for faith-based organizations and/or churches serving survivors of sexual abuse. The curriculum features visual poetry written and directed by survivors in Zambia.
FROM SILENCING TO UPLIFTING THE SURVIVORS VOICE​ bible study
This Bible Study guide facilitates a series of healing conversations between survivors of sexual violence and advocates for survivors. This guide curates conversations among leaders and members to provide a shared understanding of the survivor's experience and more robust protection policies within your church, organization, or community.
TRAUMA-INFORMED PARENTING TO PREVENT CHILD SEXUAL ABUSE​
This video series shares trauma-informed parenting skills that boost resilience, heal trauma, and build connection with your child. The additional companion guide provides parents with knowledge to navigate the intricate role of caregiving that prevents child sexual abuse and provides support for children who are survivors of sexual abuse.
PENDO'S POWER CHILDREN'S BOOK COMPANION GUIDE​
Pendo's Power is a children's book written with the hope that through open, consistent, and transparent conversations, children will be able to understand and articulate the concepts of consent, bodily integrity, and trust. This companion guide helps parents and caregivers have open conversations with children.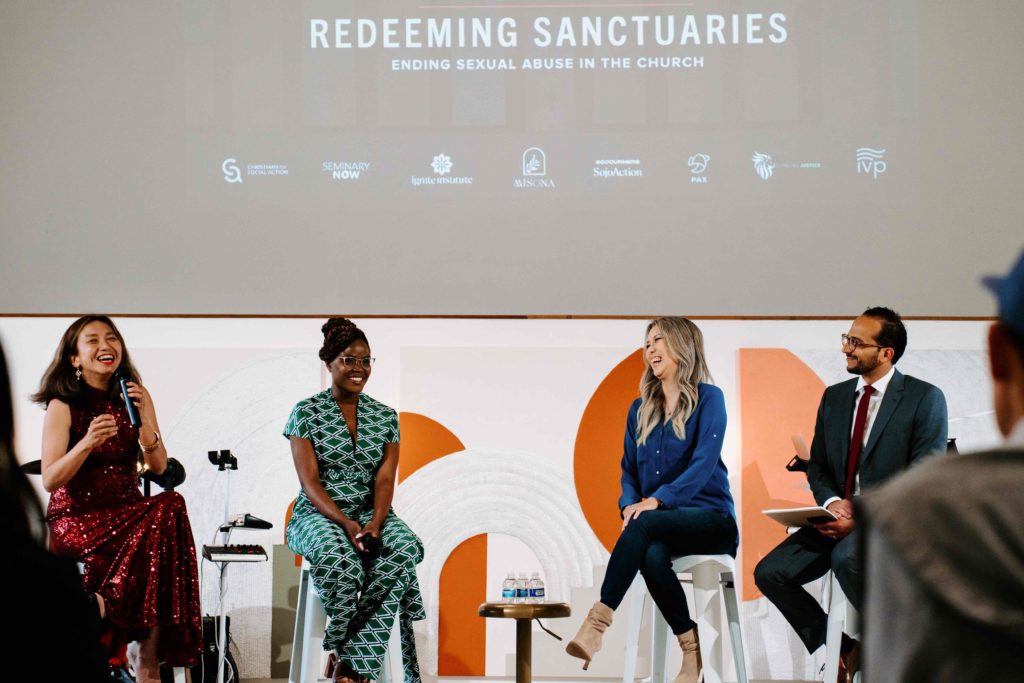 redeeming sanctuaries event recording
Over the summer in 2023, Christian leaders gathered in San Francisco to listen to the stories and solutions from survivors of sexual abuse. Redeeming Sanctuaries equips Christian leaders with the tools and resources they need to promote safety in their churches and organizations. We are making the learnings from this event accessible by providing the event recording together with additional resources to equip your church or organization to prevent sexual abuse. Hearing from a panelist of renowned survivor-leaders, you will learn about effective and honoring ways to support survivors and prevent abuse. Together, we can make a difference in the lives of survivors and redeem our sanctuaries as places of safety for all.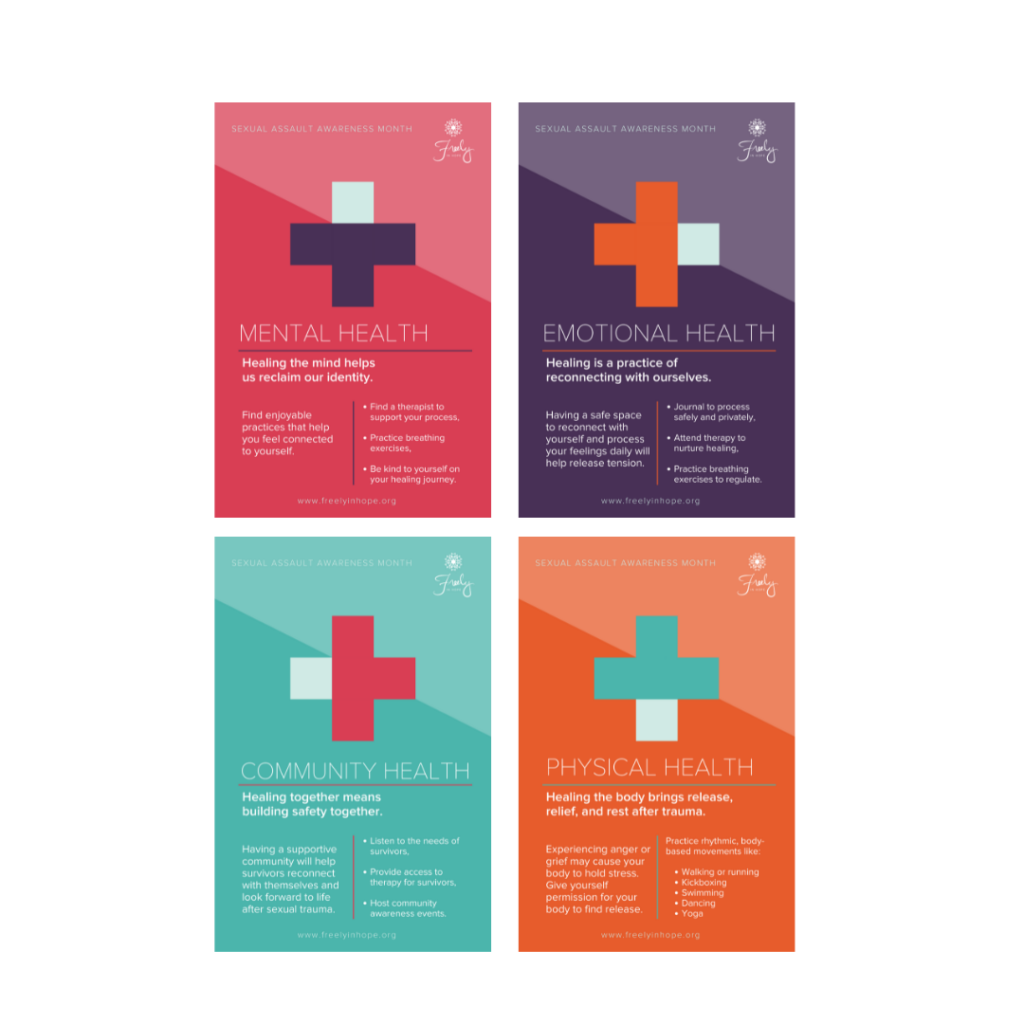 holistic health poster series
Download our poster series and put them on your office walls as a reminder of the ways to support survivors in your community.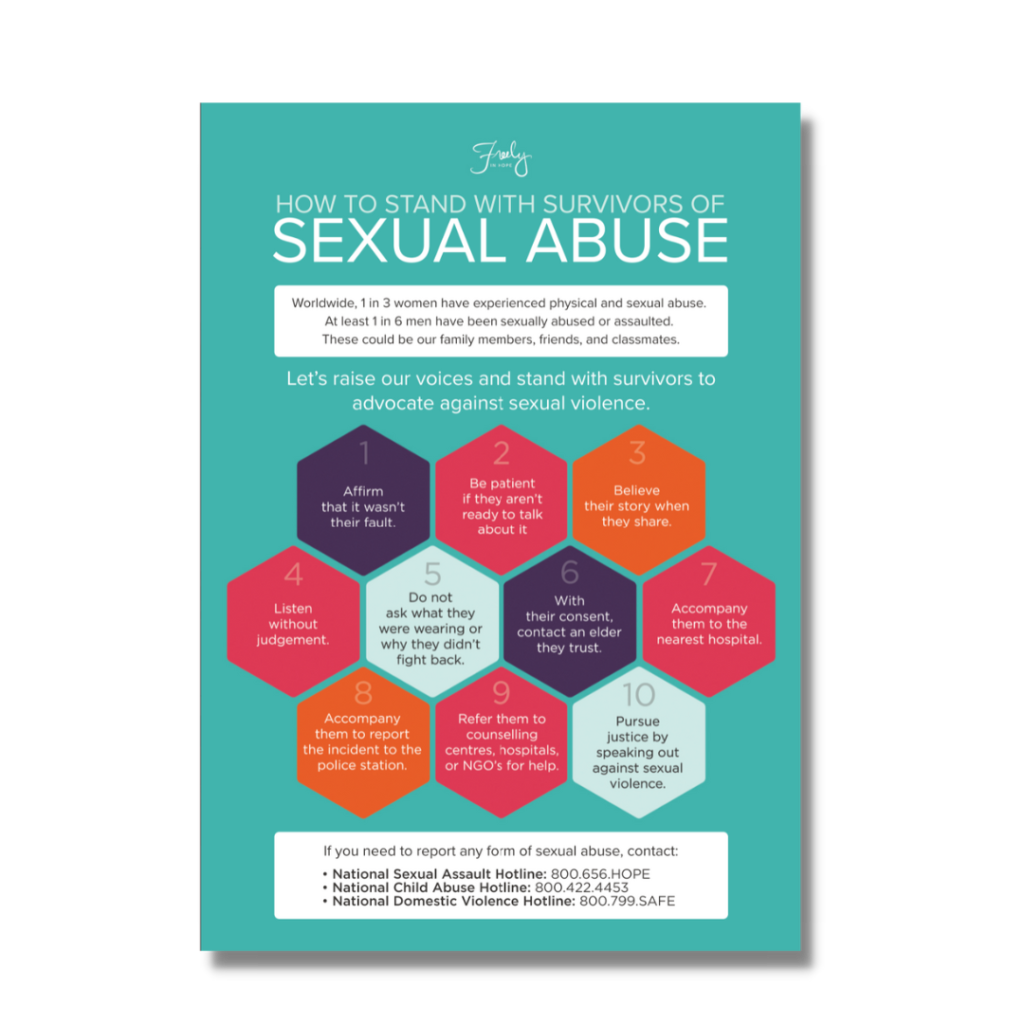 stand with survivors flyer
Ten steps to stand with survivors after a survivor comes forward with their story. Print this out to provide as a resource for your community.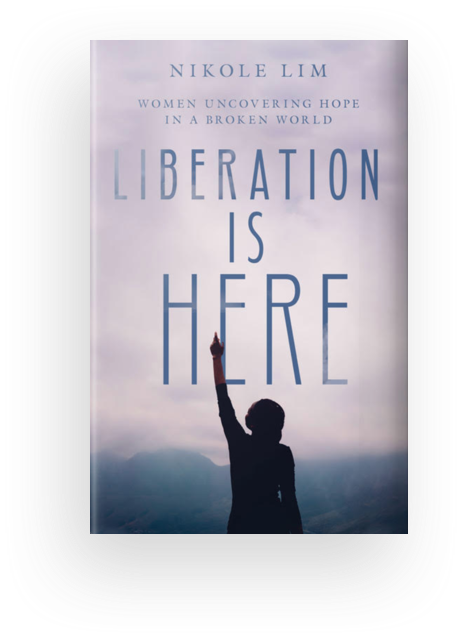 Discovering Hope Amid Trauma
Liberation Is Here is the story of Nikole Lim's journey as an idealistic freelance filmmaker. Her career allowed her to step in and out of the lives of people who had experienced oppression around the world. But when confronted with the prevalence of sexual violence in Kenyan and Zambian communities, she commits to advocating alongside the courageous survivors whose lives have intersected with her own.
These women's powerful stories inspire her to embark on a new vocation, partnering with survivors of sexual violence to launch Freely in Hope—a nonprofit organization that equips survivors of sexual violence to lead through their rewritten stories.
But as Lim embarks on the journey towards liberation with the survivors she serves, her perspective is radically altered. Exhausted and deathly ill, she witnesses how these young women become her healers—the once oppressed become her liberators.
From the slums of Nairobi, hospitals of Lusaka, killing fields of Kigali, and the back alleys of Barcelona, Lim weaves together stories presenting a narrative of God's grace and healing amid fear and trauma. Her journey proves that liberation is not just near, but it is here—in the eyes of the broken, the hearts of the oppressed, and the untold stories of our global community.
HERE'S HOW YOUR CHURCH CAN HELP SURVIVORS OF DOMESTIC VIOLENCE​
Survivors can thrive in safe spaces that unlearn the toxicity of patriarchal theology, prioritize the survivor's holistic care, and establish policies that pursue accountability for its leaders and justice for the community. As survivors, we have been able to access healing through intentional love and consistent support from communities of faith.

3 POWERFUL WAYS TO ADVOCATE WITH SURVIVORS OF SEXUAL VIOLENCE​
Rape culture is real — the words we say may be unintentional, but careless comments, lack of support, and judgmental attitudes cause great harm. Many survivors are harmed emotionally and psychologically because of the myths, stigmas, and stereotypes that are dominant in a patriarchal culture. To achieve a shared vision, we must work together.
the butterfly hug breathing exercise
Try this butterfly hug exercise to center and calm yourself whenever you feel your anxiety rising. This is a helpful exercise for survivors to bring their bodies to awareness and safety.
These books will help you in your advocacy journey. Learn from survivors, experts, and advocates to equip your knowledge 
on best practices in survivor care and sexual abuse prevention. 
OTHER ARTICLES WE RECOMMEND
Download a FREE Chapter from Liberation is Here
Join our mailing list to receive the latest news and updates from our team.