"Providing a safe space for teenage girls to bring light into the world."
Super Girls Revolution is a weekly program for teen girls that provides a safe space to discuss topics that matter. Freely in Hope facilitates conversations that allow girls to grow spiritually, pursue leadership opportunities, and learn about sexual health to make decisions that will support their future dreams.
In Zambia, child marriage is still legal.


Girls are expected to marry young and adhere to unfair standards that limit their access to quality education, leadership training, and careers outside of their communities rampant with violence.
Freely in Hope serves Mtentendere and Kalingalinga which are high-density, low-income townships (also called compounds) in Lusaka, Zambia's capital city. Kalingalinga and Mtendere are some of Lusaka's largest townships where people came from the village to Lusaka in search of work. For many girls in these communities, poverty and the lack of opportunities for education is mostly a dream that is never fulfilled. With few opportunities for education and the prospect of a career, girls are more vulnerable to child marriage, sexual violence, and forced prostitution.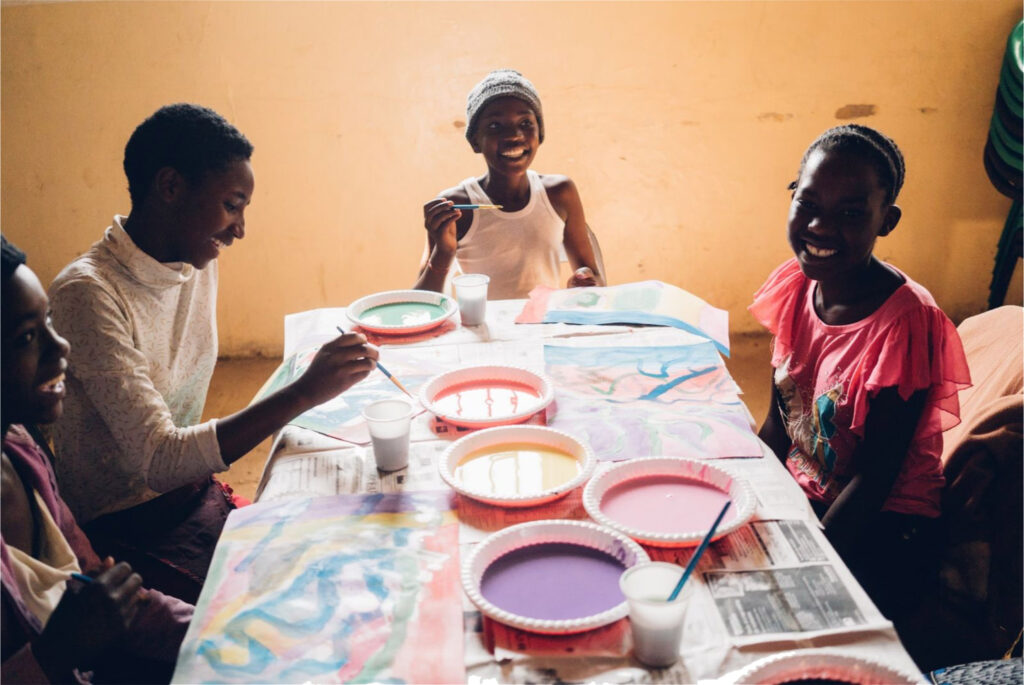 In response to these issues, Super Girls Revolution (SGR) was established by Elena, a survivor of sexual violence and prostitution who grew up in Kalingalinga.
As a Freely in Hope Fellow, Elena designed and implemented SGR to prevent the influx of sexual violence, child marriage, and prostitution that happens in her community.
SGR is a weekly program for teen girls that discusses topics including women's rights, sexual violence prevention, anti-human and sex trafficking, trauma healing, substance abuse, career development, mentorship, and leadership. Through this program, Freely in Hope aims to allow teen girls to dream of their future careers, learn about their rights, and practice their leadership skills in a nurturing environment. As they are educated on their rights, they grow in confidence to fight against cultural norms of forced prostitution, trafficking, and early marriage. The community leaders in SGR also provide one-on-one mentorship, regular home visitations, and family counseling.
Over 74% of girls who attend SGR are not in school due to lack of financial support from their families. In 2020, we expanded our scholarship program to serve 10 girls from SGR to attend school in a safe and secure environment which will prevent them from marrying early and being subjugated to household duties. Freely in Hope also funds their basic needs such as school uniforms, school supplies, books, soap, tissue, and pads.
SGR provides a safe space for girls to share their stories and find hope, healing, and a vision for themselves beyond what they can see.
Since SGR was established, we have seen exponential growth over the past 3 years! Starting with 7 girls, our program grew to 70 by the end of 2019. We have also seen major mindset shifts since the program started in 2017.
At the beginning of our program, less than 50% of the girls knew what sexual violence and by the end of the year, 78% said they knew what sexual violence was.
Initially, about 50% of the girls thought that it was culturally allowed for a male relative to touch them in a sexual manner. However, at the end of the year, 100% of the girls knew that this was not appropriate. 
Our girls in Super Girls Revolution are consistently showing up and participating in the weekly meetings. They are wanting more opportunities to learn about sexual violence prevention, practice their leadership, and become the women they aspire to be. Our hope for 2020 is that we Super Girls Revolution grows to over 100 and more girls!
Help grow Super Girls Revolution in Zambia!
Your donation will help us reach more girls with our programs that prevent sexual abuse, early marriage, and trafficking. By educating girls in our communities, we will develop the leaders of our future!