"Humanity suffers, and the sharing of that suffering is what moves us forward."
 – Father Henri Nouwen
Since April is Sexual Assault Awareness Month, we have been opening up dialogue on issues of sexual violence and how we can combat it as leaders.
Even though we are unable to implement programs within schools due to COVID-19, we have been equipping our communities with mental health resources, counseling, and ample support systems. 
Lubi, clinical psychologist, Joan, trauma therapist, and Nikole, our International Director, have given insight into what it means to build resilience in shared suffering.
Nikole: What does it mean to build resilience and why is it important?
Joan: Resilience is our capacity to recover from traumatic situations. You recover by learning how to cope and process in a healthy way and tackle problems head on. Knowing you can overcome increases confidence.
Lubi: When I think of resilience, I think of strength and growth. Resilience is more than barely surviving, but also about being able to thrive in life.
N: Post-traumatic growth is when trauma leads towards growth, what is the impact that trauma can have in either direction and what does that look like?
L: When we talk about trauma, we are talking about disruption. When someone is affected negatively, that disruptional trauma could affect functioning capabilities, relationships, and damage your sense of safety, making the world unsafe in our view. Another thing that is caused is mistrust in other people.
J: Sometimes trauma exhibits in a way that we do not expect. Be clear about what to look out for, and observe what trauma might look like so that you can find support.
N: How is FIH providing a sense of safety and building trust for survivors in our community?
J: As COVID-19 has caused a ripple effect across the world and has reached Kenya, we have had to adapt to online sessions. We must be aware of the risk of retraumatization that is posed towards our survivors; it places them back into a place where they feel out of control. We have provided safe housing for scholars in unsafe home environments, and are checking in frequently even on those who are still at home.
L: In Zambia we are doing the same. There has been a rise in assault cases because the stress of this pandemic perpetuates negative behavior. The main reason for transferring our scholars to online sessions is to ensure continuity. One way we can combat trauma is by encouraging continuity and stability; through it we are modeling that even though a crisis may come, we can still find ways to manage and adapt, no matter what the environment is. I have been inspired by our scholars because even in the midst of their trauma, they have still been reaching out to the community. When it comes to resilience, crisis will happen in life, but we must find what can be done about it. What can we still control?
N: The reason I started FIH is because I was so inspired by our survivors' sense of strength and resilience. What is it that you have learned from their resilience?
L: One of the ways we support our survivors is just by listening and witnessing them. At FIH, it's not just about providing the bare minimum, but about helping them fulfill their leadership potential; you see that as many scholars move on to FIH staff positions. Their experiences provide them with tools of empathy and motivates them to create a safe space, cultivating fierce advocacy for others.
J: In the past, you could only imagine how others may feel during trauma, but in the collective trauma of COVID-19, we are finding meaning and purpose. One thing that will come out of this is greater empathy, because we will all have experienced this. We must appreciate how adaptive we are as humans, whether it be in our work, attitude, or actions. We have control over our response.
N: What are some personal practices that you have implemented into your workflow?
L: I try my best to be intentional with maintaining relationships. It has also been fulfilling to work in something I'm passionate about and know that I am making a mark on the world. I have been intentional in connecting with my family and two young daughters as well.
J: It's important to take breaks when working at home to do something fulfilling. A routine helps ground you so that you have some sense of control.
N: How do you deal with disturbing information regarding COVID-19?
L: I am limiting how much news and information I am being fed. Media can become all-consuming and depleting, and it isn't necessary to know what's going on 24/7. Do not engage with news outside of your allotted time. In doing so, you are not in denial, but you are containing the negativity and avoiding being overwhelmed.
J: We are always sending our scholars resources to better themselves, an important one we have focused on recently regarding naming your boundaries and keeping them clear.
N: What is your experience in practicing resilience every day, as well as in times of crisis?
L: It is important to adapt and try new things that may not work in different situations, and stretch yourself. You also need to adapt to life post-trauma; as often trauma lasts long after the crisis is over.
J: Embark on a journey of self-awareness so that you can be proactive in your practices.
N: Any final points?
L: Compassion and empathy. As we all go through this pandemic, it is important to have compassion for others as well as yourself, as we are not all experiencing the situation the same. Empathizing with others is a good way to separate yourself from your own emotions, it gives you a break from what you're feeling and broadens your perspective.
J: We may not even know it, but because we are experiencing collective trauma, some of us may be experiencing what is called anticipatory grief. This means that you are in survival mode and are imagining the worst-case scenario. We must realize that we are, in fact, grieving because we have lost something. When we are aware of this, we are able to move forward. Please do not be afraid to reach out during these times.
Joan Ngaruiya
Joan's great passion is helping those who have been through traumatic experiences. She tirelessly supports their journey toward healing—ultimately helping them rediscover themselves as strong dignified individuals. As a counselor with Freely in Hope, she believes in empowering survivors through various methods of therapy, including trauma-focused cognitive behavioral therapy, to help raise the next generation of survivor-leaders who will champion the end of violence.
Joan graduated Magna Cum Laude from Daystar University in Kenya with a Bachelor's Degree in Psychology. For over 7 years, she has had the privilege of working with different institutions to prevent violence against women. Outside of work, she loves reading a good book and taking nature drives.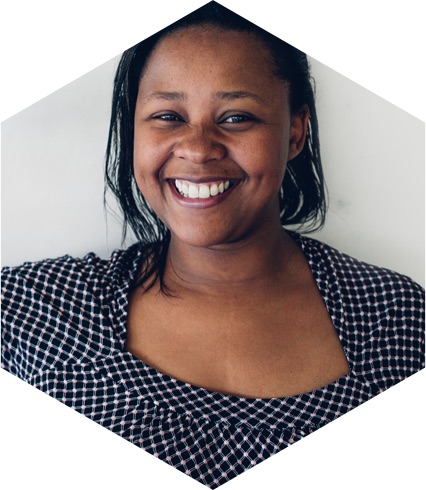 Lubi Kwendakwema Zulu
Lubi holds a Masters' Degree in Clinical Psychology from the University of Cape Town. She also has a Bachelor's Degree in Organisational Psychology. Lubi is passionate about promoting mental wellbeing and is constantly seeking new and relevant ways to care for her community.