As parents and caregivers, we are not in complete control over what happens to our children, but it is our responsibility to protect our children by deciding which adults have access to them. Healthy relational boundaries are a necessary factor in preventing child sexual abuse. These boundaries determine and gauge the health of all relationships. The key to establishing relational boundaries with your child is to find consistency and balance. If your boundaries are extremely rigid, you will hinder your child's ability to build trust and receive healthy affection. If your child is closed off behind these rigid boundaries, they will have difficulty forming connections and communicating healthily. The other extreme is when relational boundaries are so porous that there is no structure. If your boundaries are too lenient your children will have no sense of autonomy, independence, or responsibility for their actions. This may also cause your child to be exposed to inappropriate emotional, physical, and sexual scenarios. A healthy boundary is found somewhere in the middle of these two extremes; flexible enough to allow emotional development but structured enough to provide protection.

It is important for parents and caregivers to model these healthy boundaries. If we are not consistent in our relational boundaries as individuals, our children will have no example to follow. Here are some helpful guidelines for establishing and maintaining relational boundaries with your child: 
1. Seek information and adjust accordingly.
When you learn something new, you are responsible to act on it. To be informed and aware of sexual abuse is to no longer have the excuse of complacency. You must be intentional in learning about the prevalence and signs of sexual abuse in order to be equipped to prevent it. Be informed about what children are being exposed to in schools, on the internet, and even at sleepovers. When you develop a sense of awareness you will be able to make informed decisions. As you gather more knowledge you can always adjust your boundaries moving forward. When you learn something new, you are responsible to act on it. 
2. Communicate clear values.
When it comes to relational boundaries it is important to clarify and communicate your familial, religious, and relational values. These values will act as a foundation for relational boundaries. If these values are not clear within the home, it will be difficult to strengthen relational boundaries. For example, African culture is extremely communal and many people live with others outside of their immediate family, including live-in nannies. But for me personally, I have decided to prioritize the privacy of my children and ensure that they have autonomy over their space. If you are co-parenting or hiring a nanny, be sure to be clear on your values if they differ from your cultural context.
3. Set and model boundaries.
It is important to not only specify relational boundaries but to model them as well. One of my boundaries is that my children will not share beds with anyone. As a little girl, I would go to sleepovers where I would be exposed to inappropriate scenarios. I want my children to have autonomy over their own space, especially while sleeping. Even if I have relatives visiting or a nanny at the house my children will remain clear on their boundaries. Not only am I proactive in communicating this boundary to guests, but I model them as well. Another practice within my home is asking for consent. Hugs and other physical touch is an expectation in African culture. But in my home, I will even ask my own children, "May I give you a hug?" This gives my children autonomy over their body and allows them to politely decline if they choose. Perpetrators often use grooming as a tactic so I am very particular with who gives treats to my kids–training my children to politely decline if someone tries to offer them candy. Children do not follow what you say, they follow what you do. If you are co-parenting, be consistent in your boundaries with your child's other parent. It may be confusing for a child if you set a verbal expectation with their other parent but are still lenient in physical boundaries.
4. Empower your children to create their own boundaries.
Allow your child to develop a sense of independence and autonomy from a young age. As a parent you may have to release a little bit of control, perhaps in allowing your child to dress themselves. Even though my son's outfit choices may not be perfect, my goal is to communicate to him that no one should interfere with what he does with his body. You can also teach your child to clean and wash themselves. My son also has a set boundary where no one can come into his room when he is changing. These steps do not only show your child the importance of setting personal boundaries, but respecting the boundaries of others as well.
5. Learn from your children.
I am naturally a strict parent who enjoys creating systems and structures. Because of this, I must be intentional in building trust and relationships with them. Parents and caregivers should take the time to actively listen to their children and ask questions about their day. I have found that my children have become even more open and communicative because of this. One day, my son had gone to visit his grandma and he told me that his cousin was telling him about someone he had kissed. This open communication allowed to process this scenario with him. You must be a student of your children; learn to understand their communication style, their emotions, and their fears. Listen to them intently, but also respond appropriately. In Africa we have been trained to beat answers out of children, but this only teaches them to not share a word next time. This makes it incredibly important to respond lovingly and appropriately, especially during first-exposure situations. Assure your child that if they were to come to you after being sexually abused, you would believe them and take appropriate action.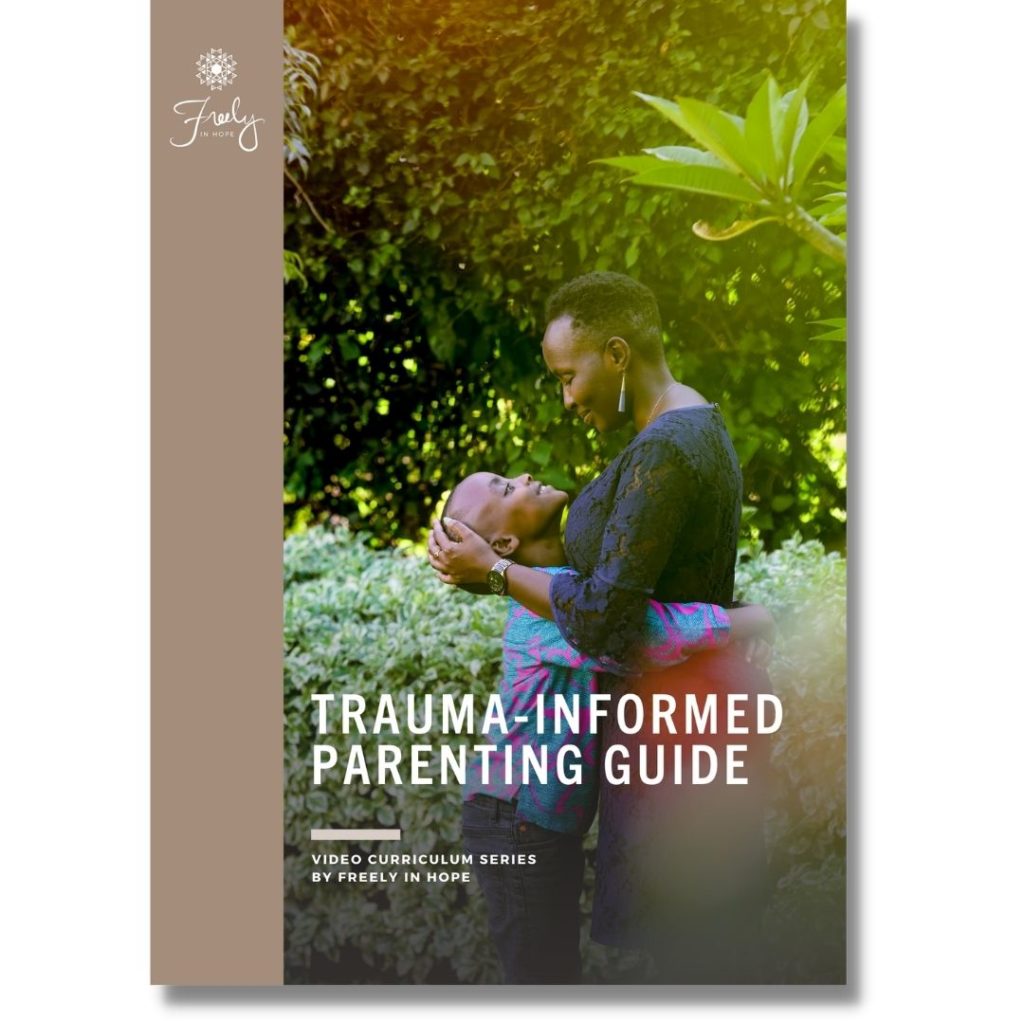 The Trauma-Informed Parenting Guide provides the basics of trauma-informed care to empower parents and caregivers to have age-appropriate conversations with their children around sexuality, sexual abuse, and trauma healing. 
Donate to our campaign to receive access to the
Trauma-Informed Parenting Guide!
Operations & Development Director
Freely in Hope, Kenya
Trizah Gakwa is passionate about helping organizations and individuals reach their highest potential by establishing systems and structures that facilitate growth and sustainability. She has 8 years of experience working with different organizations and being part of their growth and impact journeys. She finds joy in helping young people discover their God-given potential and begin to live fulfilling and impactful lives. As Freely In Hope's Operations and Development Director, she dreams of helping build a strong, passionate community of survivor-leaders whose daily pursuit is to use their combined strengths and stories to end the cycle of sexual violence.
Her first degree is a Bachelor of Commerce in Accounting and she is currently pursuing a Masters of Arts in Organizational Leadership at Africa International University. She is grateful for the gift of motherhood and enjoys spending time with her 5-year-old son and 1-year-old daughter. If she wasn't doing what she's doing, she reckons, she would have been a musician.