Since April is Sexual Assault Awareness Month, we have been opening up dialogue on issues of sexual violence and how we can combat it as leaders.
Even though we are unable to implement programs within schools due to COVID-19, we have been equipping our communities with resources as we adapt and learn from each other.
Lydia Matioli, Freely in Hope alumni and Program Manager, and Nikole Lim, our International Director, have given insight into what it means to create community from a distance.
What do school closures mean for our scholars and other children in our community?
Because COVID-19 has caused the government to close schools, our scholars are now pressured to find ways to provide for their families, and this opens them up to violence in areas where they are forced into domestic work or prostitution. Many children rely on school to provide their meals, and the added anxiety and stress makes some of our scholars more vulnerable to abuse within their homes.
How has FIH remotely created a safe space for girls during the stay-at-home mandate? 
The FIH team has been using WhatsApp groups to conduct daily check-ins and give scholars the opportunity to encourage each other. An important resource to help curb social isolation is online therapy sessions, and we are virtually connecting mentors with the girls to provide them with career counseling. Our social workers have also been going door to door giving food baskets to our scholars' families; having food security allows the girls to prioritize academics.
What are some of the cultural practices in your community that may perpetuate sexual violence?
The stigma that surrounds telling your story is a major hindrance in our work against sexual violence. In order to maintain the culture of silence, rape victims may be bribed with food or other necessities. Abusers are therefore enabled to continue perpetuating violence—it's an economic issue. Child marriage, where chidlren are married as early as twelve years old, is another cultural practice that we must fight against. The Eneza Program is focused on educating the children and communities against these practices.
How do you select the schools that you work with?
FIH selects schools to partner with based on highest need. This year we are working to expand our school partnerships outside of Kibera. We only work with schools that our staff and scholars know well and building community relationships through familiarity.
How have you seen the community foster hope during this crisis?
There are several initiatives that have started within the community aimed at standing in solidarity with families. The community members care about each other's health, and have been intentional in setting up hand washing stations despite water shortages. We are also seeing the community embrace technology due to social isolation, and have all been willing to adapt and move together past this. Even grandmothers and mothers are downloading WhatsApp to stay connected.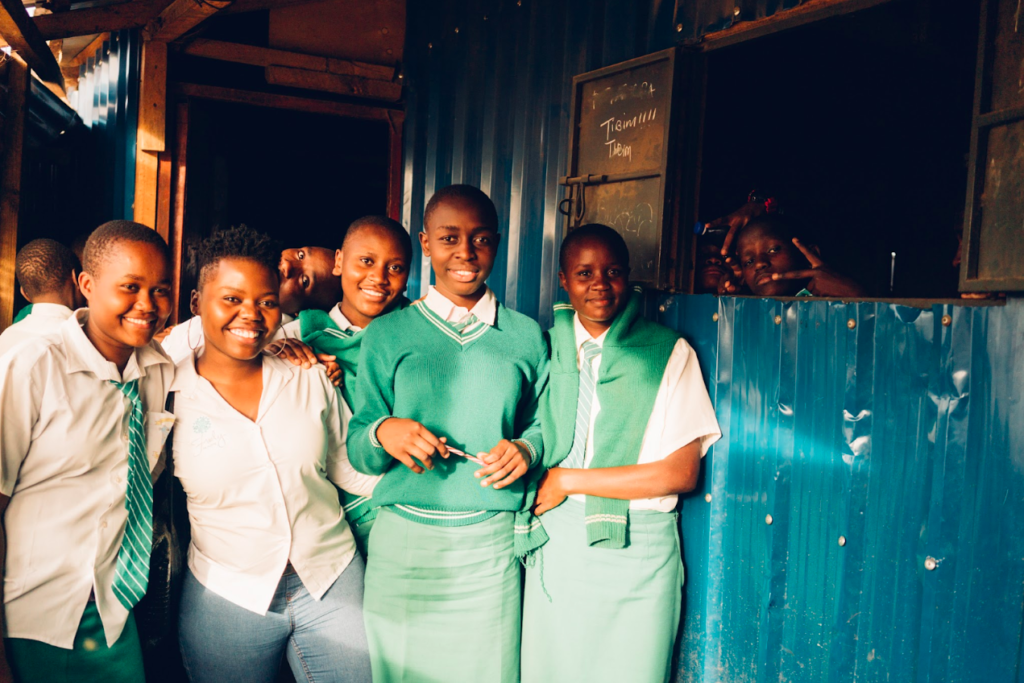 How do you address idleness during lockdown?
We have been encouraging our scholars to utilize this time in a positive way. Our social workers stay connected, following up constantly through WhatsApp, and we have therapists sending journal prompts to encourage reflection during this crisis. Our highschool scholars have been provided with Nokia phones, giving them access to remote tutoring to prep for exams. We have been very intentional in making sure that our scholars are supported, socially, emotionally, creatively, and academically.
How do you respond when students share cases among them during programs? 
The first step is making sure they understand that it is a safe space to share their experience, and identify what the need is at that time, whether it be counseling, health care, or safe housing. We then move forward by finding the appropriate resources by partnering with service providers.
What have you seen as a result of changed mindsets?
The beauty of the Eneza program is that boys are included in the discussion. We are teaching them about consent and showing them that we all must work together to end violence.
If FIH could grant you a wish in this pandemic, what would it be?
It would be wonderful to provide safehouses and shelters for our scholars, especially as the stay-home mandate keeps individuals within the vicinity of abusers.
Lydia Matioli is passionate about building platforms for survivors and advocates to be leaders in their communities. Born and raised in Kibera, East Africa's largest slum, Lydia has experienced the effects of sexual violence, lack of education, and poverty first hand. Now, as Freely in Hope's Program Manager, she coordinates, designs, and implements programs that exemplify best practices on ending the cycle of sexual violence. Lydia graduated with first class honors in Bachelor of Arts in Gender, Women and Development studies and has 6 years experience in program design, implementation, and community outreach. She loves seeing survivors unlock and fully live out their potential.