Thank you for taking the first step in protecting children with Freely in Hope! This toolkit will help you be an activist by joining in the fight against child sexual abuse. You can donate, create your own fundraiser, and share ready-to-go social media posts to invite your friends to donate to your fundraiser!
Donate to the campaign here! After you donate, share about it on your social media platforms! Share a caption or a personal story as to why protecting children is important to you.
Sample Caption: Freely in Hope is a non-profit organization dedicated to ending sexual violence in Kenya and Zambia. As part of their #16DaysofActivism campaign to end child sexual abuse, I have donated to support their important work in protecting children. Will you join me in this cause?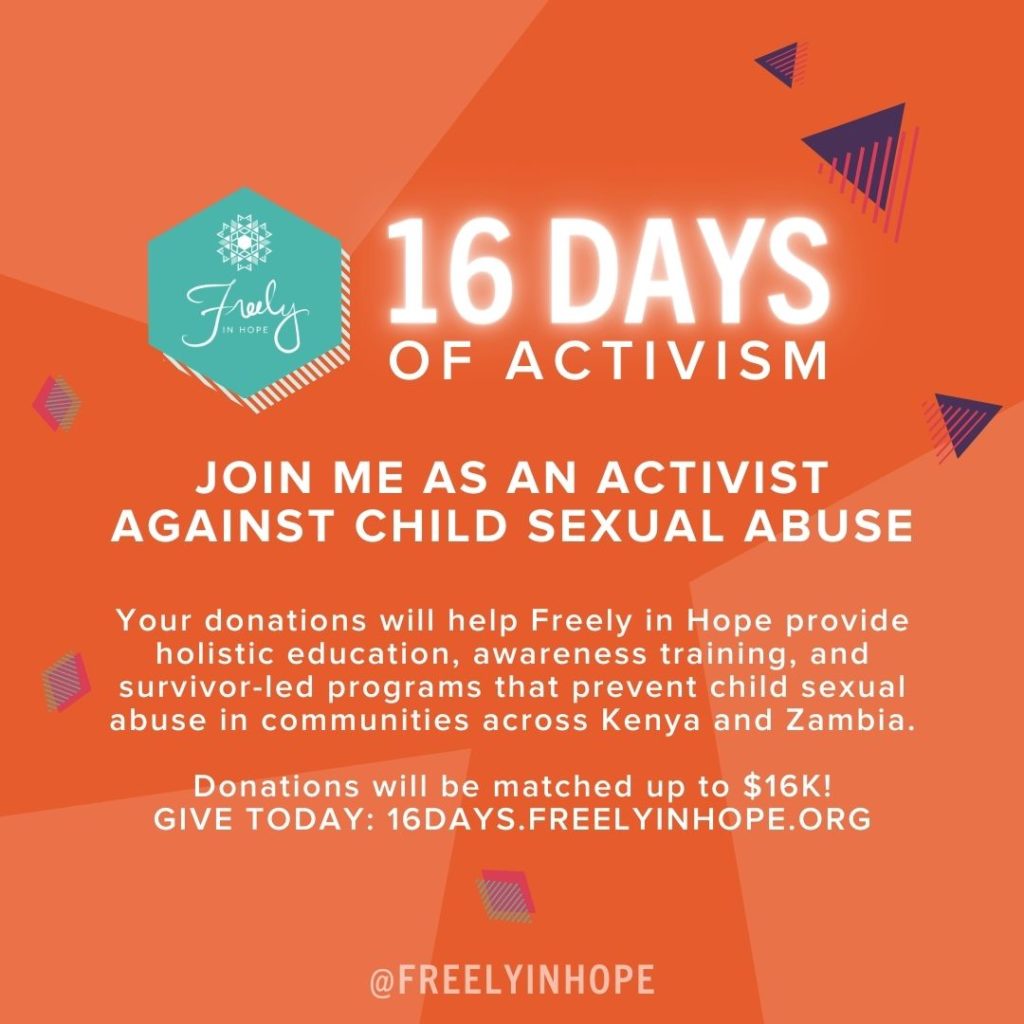 Start Your Own Fundraiser!
There are many ways to personalize your fundraiser in order to maximize your impact! Merging the fundraiser with a personal event like your birthday or by dedicating the fundraiser in conjunction with the upcoming holiday season can be another way to garner support for your fundraiser!
Begin to brainstorm who your target audience is for your fundraiser. Think of friends, colleagues, and family members that are on social media and would be interested in supporting your cause. For those that may not be actively involved on social media, you can always reach out via email or text to support your fundraiser. For those that are active on social media, encourage them to share your fundraiser to their own community as well!
Personalize to your audience why you are choosing to support Freely in Hope. Why is protecting children important to you? Take some time to jot down a few reasons why this campaign resonates with you and craft that into a few sentences to invite your audience into your cause.
Here's what the impact of your fundraiser can do:
$160 provides 1 month of safe housing and personal care essentials for 1 scholar
$600 provides interactive workshops on abuse prevention for 60 children
$1,600 provides 1 year of high school tuition for 1 scholar
$6,000 provides 1 year of awareness training and leadership development in a safe space for 100 girls
There are three ways to start a fundraiser:
If you or your friends and family aren't on social media as much, you can create a personal fundraiser page through our campaign site. Share this link through email and text and watch as you meet your goal! Click Fundraise on our campaign site!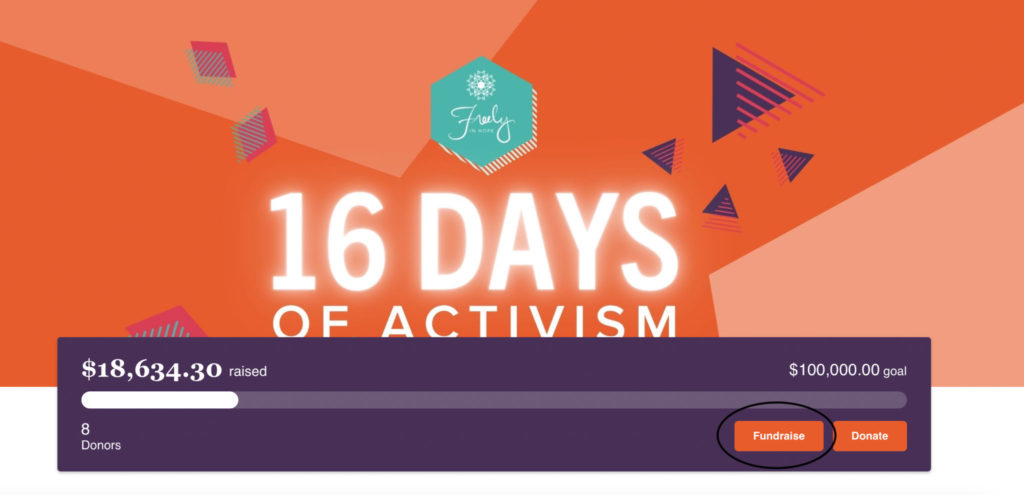 Simply set your goal and click Create! Make sure to make your audience aware by sharing it on your personal page! Go to the fundraiser and click "share".
3. Instagram 
You can also fundraise on Instagram! Take these easy steps to do so:
1. Go to your profile on Instagram and click the top right + button and click where it says "Fundraiser."
2. Select "Freely in Hope" under the list of fundraisers.
Let your friends and family know that you are joining Freely in Hope's #16DaysofActivism campaign by downloading these graphics! Post a selfie sharing your "why" with your community—they will feel most connected to the work of Freely in Hope through you! Share your story!
Seeing how each donation tier is used is a great visual way for our audience to see the impact of our fundraiser! Download these graphics to share on your socials!
Keep your Audience Updated!
Keep your friends and family updated on your progress! Download these graphics to keep your audience engaged during your fundraiser journey!
If you are looking for additional information on how you can help our cause, visit our blog! We invite you to share our blogs far and wide which will provide lifesaving resources that will help protect children in your community.
Thank you for supporting Freely in Hope!
Sharing our mission with your friends is helping us continue our important work of protecting children across Kenya and Zambia. Your activism is also providing lifesaving information to your friends and family that can help prevent child sexual abuse. Thank you!
Download a FREE Chapter from Liberation is Here
Join our mailing list to receive the latest news and updates from our team.