At thirteen years old, I was sexually abused and had a child.
The perpetrator was a person I knew, and when the case went to court it was a mentally draining experience for me. My love for poetry began as an outlet to express my emotions after someone encouraged me to write as many poems as I could. Poetry helped me find my voice.
I come from a humble background, and one of the challenges I faced was the lack of school fees to pay for my high school education. I would often be dismissed from school, and since I didn't have bus fare to go home, I would spend time with my mum's friend who lived close to my school. When my mom found the money, it would be used on my school fees, meaning life would become even harder for them. Leaving my family without any hope affected me and I worried about how they would survive at home. The stress made it difficult for me to focus in school and as a result, I performed poorly. Between past trauma, the ongoing court case, a baby to take care of, my mom not working, and my younger brother starting school, my relationship with my mother became strained. I soon became physically sick, presenting symptoms indicative of a stroke. A medical review traced the symptoms back to psychological distress, and I was able to receive professional treatment.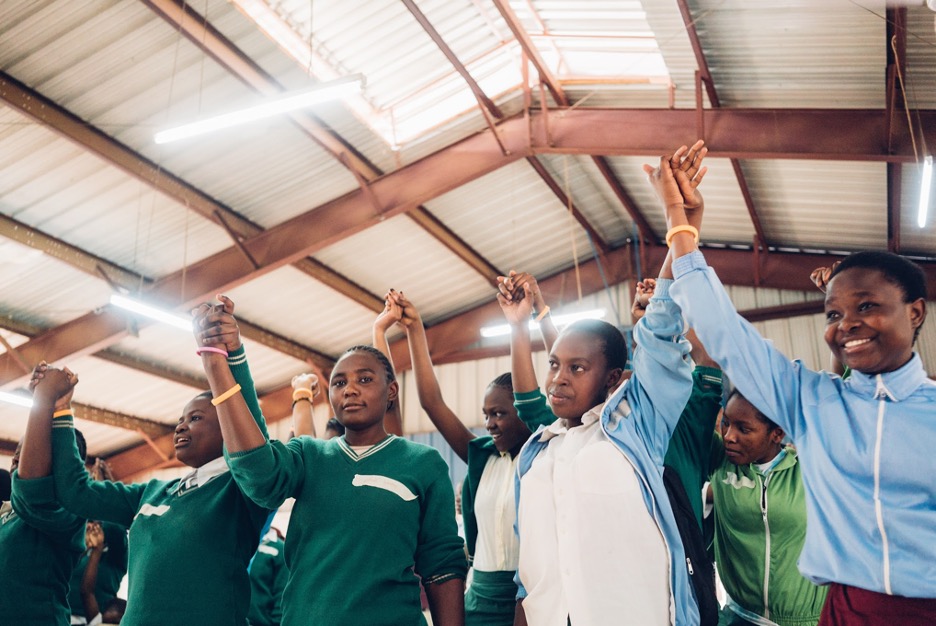 JUSTICE NOT SERVED
I used to feel much older than my actual sixteen years, something that other people would also tell me. I rarely smiled or laughed, but instead I would often have crying episodes for no reason. I never expected anything good to come out of me, and I never believed that someone with a past like mine would be successful until I met Freely in Hope. It was at FIH's biannual retreat that I was given a chance to showcase my poetry. I never imagined that later, I would host big events like talent shows and International Day of The Girl Child conference for over 300 high school students.
My growth, which is easily noticeable, can be attributed to Freely in Hope's leadership trainings and holistic programs. For the first time in my life, I was not worried about the opinions of others, but instead I had the freedom to be myself. I came to understand that everyone is unique in their own way, and that being authentic makes it easier for people to help you heal. I now look younger than my age and I feel so beautiful. I have a sense of family belonging, especially when people share their stories at the retreats or during the Eneza program. I can now share my story boldly to help other survivors and young mothers, showing that they are not alone and they have a place to belong.
SHARING MY STORY MAKES ME FEEL STRONG; I AM NO LONGER THE GIRL THAT USED TO CRY ALL THE TIME, I HAVE BECOME SELF-DRIVEN, AND I TRY MY BEST TO COMPLETE TASKS INDEPENDENTLY. I AM A ROLE MODEL FOR YOUNGER ONES AND I HAVE GROWN TO LOVE MY CHILD WHO HAS BECOME MY MOTIVATION.
Healing is a process and I am in that process. Part of the journey towards healing is forgiveness. All of those years going to court—the humiliation, ridicule, and mockery that my mother and I endured—led to unfavorable judgment. All we wanted was justice but the perpetrator was acquitted on grounds of legal technicalities. At this moment, I am unable to forgive because I feel that justice was not served.
HEALING CAN BE FOUND
I am studying Counseling Psychology so that I will be able to understand myself better and help others who feel hopeless. I hope to work with survivors of sexual abuse in my community, encouraging them to speak out and tell their story. I will be an advocate and will walk with them towards justice if that is where their healing can be found. Even though I didn't receive justice in my case, I will still use my story to bring positive change to the world.